Now You Can Login to Your AERIALS Account Online!
Current Customers
If this is your first visit to your client portal, Don't panic! It's easy.
1) Click to register at the end of this paragraph and your page will look like this.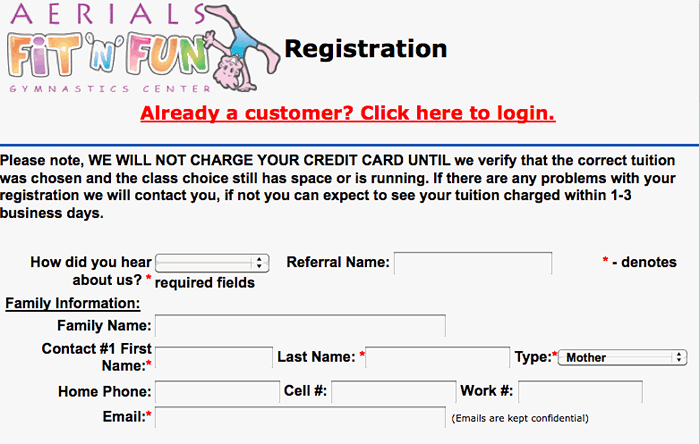 2) Click "Already a customer? Click here to login."
your screen will look like this.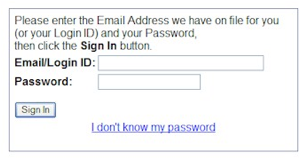 3) Simply enter the email address we have on file for you as your "Email/Login ID" and click on the "I don't know my password" link.
4) You will immediately receive an email with a temporary password.
5) Return tothe Login page, you can sign in quickly and easily.
Once Online your able to access Aerials Classes as well as your personal account online at any time!
You may add classes, view and print your statement, make payments online and much much more! Enjoy!
New Members:
1) Read through the following directions and then click the link at the end.
2) When you click through your screen will look like this (pictured below).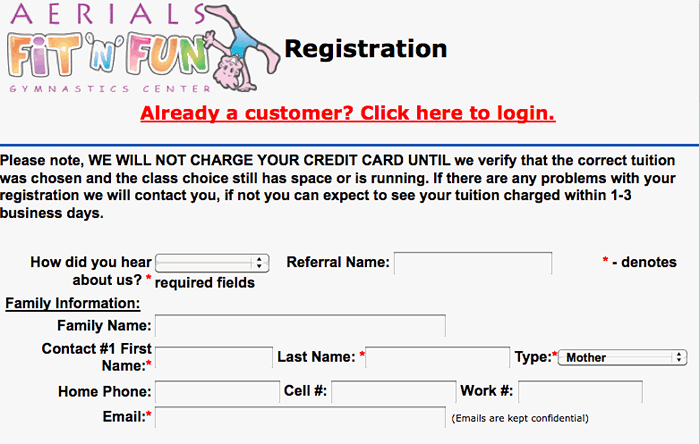 3) Enter in Family info and your first child's info.
This will help you narrow down the available classes for your child
4) Choose a class by click to register.
5) Add additional classes or children as necessary
6) Your Credit Card is required to complete the registration process at the end of this form; however, DO NOT FEAR! YOUR CREDIT CARD WILL NOT BE CHARGED AT THIS POINT. If there are any problems with your class selection we will contact you. If not, no news is good news, you can expect to see your tuition charged within 1 - 3 business days.
7) Click "Submit Registration Information"
OK . . . you ready?
Let's do this Click here to Register!
Of course, anytime you need help you can call us at 610-983-9044
Email us at info@aerialsgymnastics.com
Or just come in for a visit and register in person.