elcome to the exciting world of Aerials Fit 'n' Fun Gymnastics Center. Our child sized equipment allows children to discover color, shape, and movement while developing imagination, coordination, and motor skills. Children's self-confidence grows as their physical fitness level rises.


erials Fit 'n' Fun Gymnastics Centers' unique approach of cooperative, class-directed instruction creates the ideal environment for enhancing children's development. Our classes positively affect children in many ways including physical coordination, agility, endurance, strength, balance, gross motor skills, and fine motor skills.



he most important ingredient in our program is in our name: FUN. Kids will gladly join an activity that is really fun. We "disguise" physical fitness exercises with fun activities and challenges.




ymnastics develop the child's body and mind. We know that you are keenly aware of your child's need for developing self confidence and physical health. Even with limited motor skills, the young child realizes that he or she just achieved something special after completing that first cartwheel, tumble, or somersault. The child's delight in that skill now propels them to achieve again and again.
n added benefit for the child going into team sports is an early knowledge and use of gymnastics. These skills will greatly enhance the young athlete's ability to contribute while playing any sport. Simply put, there isn't any better way than gymnastics to build strong and flexible bodies and alert minds. It is Fun to be Fit.



ant to see what our 15,000 square foot Gym looks like?
Click here to take a virtual tour!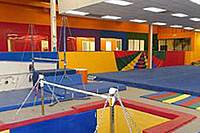 (You'll need the Quicktime plug-in to view the tour-- click here to download it)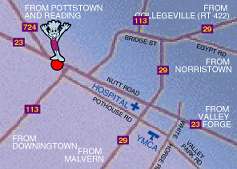 Click here for maps or driving directions: