AERIALS GYMNASTICS TEAM RETURNS FROM STATE GAMES IN COLORADO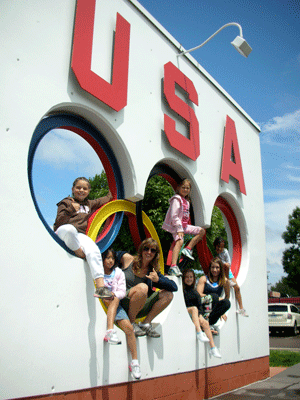 Aerial's Gymnasts win gold and silver as they represented Pennsylvania in the State Games of America in Colorado Springs last weekend. Anna, Kaitlyn, Ruth, Mary, Angel, Samantha and Camaryn, qualified to participate in the State Games by placing 1st, 2nd or 3rd at the Keystone State Games held in May. The State Games are America's largest amateur multi sport athletic competition. In an Olympic style event the Aerials gymnasts with their coach Miss Ajja and 5000 other athletes representing 43 states marched in the parade of athletes. The torch was lit to signify the opening of the games on July 30th. The gymnasts competed at the U.S. Air Force academy on August 1st where Phoenixville's Aerial's gymnastic team brought home 12 gold and 4 silver medals.
For more of this story, click on or type the URL below:
http://www.phoenixvillenews.com/articles/2009/08/08/sports/srv0000006061335.txt
The girls and Miss Ajja are pictured at the Olympic Training Center. The entire level 4 and 5 USAG teams as well as Level 6 team member, Isabella, qualified to the State Games of America but were not all able to attend.
---
AERIALS WELCOMES 2008 OLYMPIC SILVER MEDALIST RAJ BHAVSAR TO TEAM CAMP!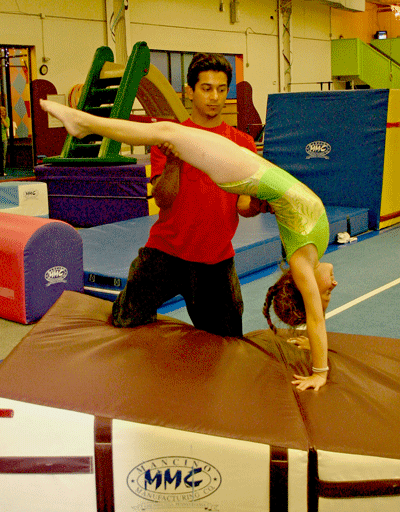 Aerials Team campers enjoyed a few days with Raj Bhavsar. He is an seasoned gymnast whose achievements include berths on the 2004 and 2008 Olympic Team as well as a 2001 and 2003 World Team Member, 10X USA National Team Member, USAG National Champion and NCAA Champion. Raj is 28 and hails from Houston Texas where he trains at The Houston Gymnastics Academy under the watchful eye of Olympic Team Coach Kevin Mazeika.
Raj spent time with the campers and shared the story of his athletic journey, filled with highs and lows. Campers enjoyed his friendly personality as easy going nature as he happily answered many of their questions.
"What kind of shampoo do you use Mr. Bhavsar?" one camper asked.
Campers enjoyed seeing Raj in action and up close. All the athletes were treated to an autograph and picture taking session at the conclusion of week. Mr. Rick arranged several gymnastics club appearances for Raj who also enjoyed historic Philadelphia and Phoenixville and a great day at the beach.
Come back and see us soon!
---
1996 OLYMPIC MEDALIST KERRI STRUG AT AERIALS.
The unique event poster featuring Kerri, was designed and printed at Miller Designworks right here in Phoenixville. The autographed, limited edition prints sold out instantly.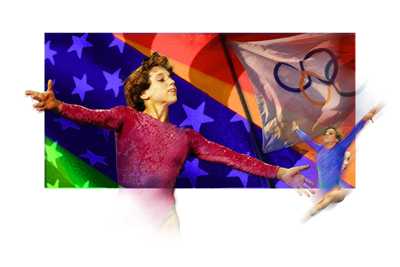 Kerri Strug, former Aerials student, and maybe the most recognized gymnast on earth, helped stage a gymnastics clinic and fund raiser for the Cancer Center at Phoenixville Hospital and The START Foundation. The event took place Sunday, June 25th, 2000 at the Aerials "Fit'n'Fun" Gymnastics Center. Kerri began the day, along with 15 volunteer coaches, instructing 100 gymnasts for a three hour clinic. The athletes were also treated to a video and motivational talk from the Olympic Champion.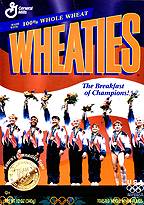 Kerri signed lots of Wheaties boxes that day!
"She was every bit as magnificent as the day she performed the heart stopping vault at the 1996 Olympics" said Rick Palumbo, Aerials owner and one of her former coaches, " She is a true champion in every sense of the word."
Kerri held a question and answer session after which she signed all athletes souvenirs. Corporate partners supplied mats, tee shirts and books for sale during the clinic. All proceeds went to The Cancer Center at Phoenixville Hospital and The START Foundation.
To continue helping the Cancer Center Kerri graciously left behind many autographed books and tee shirts for sale. Contact the Aerials "Fit'n'Fun" Gymnastics Center front office to purchase your very own tee shirt and autographed book entitled "Landing on my Feet" today!
---
IRISH TEAM TRAINS AT AERIALS.

The Aerials "Fit'n'Fun" Gymnastics Center was host to the Irish National Gymnastics Team and their coaches. While here in Phoenixville, the team of 20 trained six days with the Aerials coaching staff including team director Rick Palumbo and developmental director Eileen Wilson. The trip was coordinated by coach and clinician Ken Miller who has visited Ireland for the last two years. Ken, a KAT and SAFETY CERTIFIER for USA Gymnastics, has brought to Ireland such notables as 1988 Olympian Hope Spivey.
The girls enjoyed many diversions while in the states including a trip to historic downtown Philadelphia, The Franklin Institute and the Zoo. A highlight of the trip for the girls, who ranged in age from 12-18, was Sunday with the Parkettes. Bill and Donna Strauss graciously opened their gym to the girls who had the pleasure of meeting the American National Champion Kristin Maloney.
Rick Palumbo briefs the girls on the days training goals.
---
---
BRYN MAWR TRUST BANK PRESENTS PENN STATE QUARTERBACK GREAT TODD BLACKLEDGE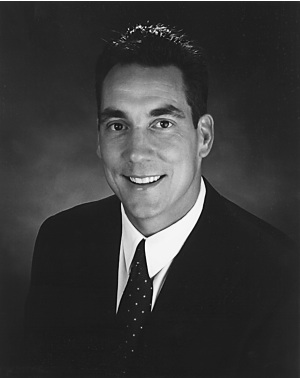 A dinner and cocktails featuring Todd Blackledge, Sportscaster for CBS, was held April 22, 2000 to benefit the START FOUNDATION and the UNITED SPORTS FOUNDATION.
As a former strong arm for the Kansas City Chiefs and Pittsburgh Steelers, Todd held the record at Penn State for touchdown passes. In 1983 Todd became the first quarterback to lead Joe Paterno's Nittney Lions to a National Championship before becoming a first round NFL draft pick for the Kansas City Chiefs.
Todd entertained a packed house with behind the scenes stories of life as an athlete at Penn State University, under legendary coach Joe Paterno. His presentation included poignant and inspiring experiences as a professional football player and what it take to be a "Difference Maker". The evenings activities included a silent auction featuring many items including autographed footballs and videos, rare coins, a vacation package and a uniform signed by the entire World Champion US Womens Soccer Team. Children of the guest participated in a series of activities at United Sports including soccer, basketball, a big screen video movie and mountain climbing.

For more celebrity events visit United Sports Training Center and the START Foundation website.
---