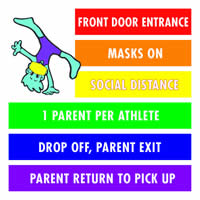 From the Desk of Aerials Fit'n' Fun Gymnastics Center
Effective February 1, 2021: Entering through the Front Door.
The rear door will no longer be used by our instructional class participants.
The health and safety of our members and staff is our #1 priority, especially in these unprecedented times. Our policies and safeguards are listed on this website.
This is an addition to existing safety measures. Only entering the gym when necessary.
We appreciate your assistance in strictly limiting the number of people in our facility. This is accomplished by only one person escorting their child into the building and helping them, if necessary, to prepare for class, then immediately exiting. If you must stay consider the number of parents in the space with you.
If it becomes difficult to social distance while you wait please exit the building and return to collect your child at the end of class. Currently all classes are 45 minutes to give us time to clear the space and prepare for the next class and quests.Κ Please respect this and be on time especially with regards to pick up. We are trying very hard to maintain a safe environment and follow the guidelines. While indoors, keep your mask on, sanitize and social distance.ΚΚΚΚΚΚΚΚΚΚ
ΚΚΚΚΚΚΚΚΚΚΚΚΚΚΚΚΚΚΚΚΚΚΚΚΚΚΚΚΚΚΚΚΚΚΚΚΚΚΚΚΚΚΚΚΚΚΚ Thank you for your attendance and cooperation.Κ The Aerials Staff.